Hey ya'll!
The Band Perry is singin' on the Today Show and I guess it got me feelin' all country?
Anyway, I'm borrowing my wonderful sis-in-law's charger so we're back in business.
First things first... I'm teaching a scone baking class tonight AND the first market of the season is tomorrow! Yay!
I'll be rocking this new banner from
CM Handmade
that I'm in loooooove with!
I'll also be finding some time this weekend to go swimming with my fave little fishy.
This is the main reason I can't seem to find a free second to blog these days.
She's captivating... And I'm ok with it :)
I know I owe you all some serious recipes.
I also know this doesn't really count, but...
Try my all time fave breakfast:
1/2 cup old fashioned oats
1/4 cup chopped walnuts
1 banana sliced up
drizzle with agave nectar
sprinkle with cinnamon and flax meal.
YUM!
Ok I'm out. I've got to shower before nap time ends!
Happy happy June.
Summer makes me so happy!
Oh speaking of summer...
Ashley over at Mister G and Me is hosting a Summer Blog Party!
I'll be popping up later this month but she has tons of other fun guest bloggers too.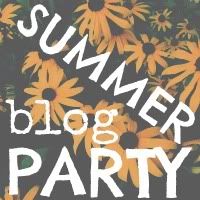 <div align="center"><a href="http://mistergandmecrafts.blogspot.com" title="Summer Blog Party"><img src="http://i1193.photobucket.com/albums/aa344/mistergandme/sbp2.jpg" alt="Summer Blog Party" style="border:none;" /></a></div>