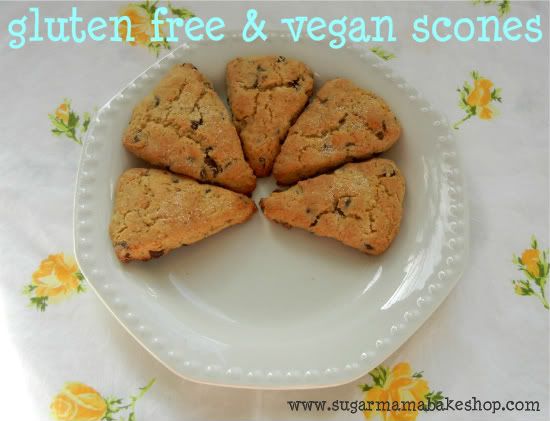 I don't really know a whole lot about scones.
I didn't know exactly what an amazing scone was supposed to taste like with gluten & dairy so I didn't have a reference for how to make my own.
But then Katie left a comment last week requesting a scone recipe.
I really love a baking challenge.
Plus Katie is just so sweet. (Check out her awesome blog.)
So I looked around and found this bad boy that looked amazing.
I made a batch and LOVED them!
...so did Hunter, and his sister, and his mom :)
So I sent the recipe to Katie for a trial run.
I just got word that they passed the test!
She made them with blueberries & said they were amazing.
So here you go. Now it's your turn :)



Chocolate Chip Scones
Ingredients:
1 TBSP flax meal

3 TBSP hot water

1/2 cup plain coconut milk (or soy)

1 tsp lemon juice

2 cups flour**

1 tsp xanthan gum

2 tsp baking powder

1/4 tsp baking soda

1/2 tsp sea salt

1/3 cup brown sugar

1 stick vegan butter (I love Earth Balance)

1/2 tsp pure vanilla

1/2 tsp almond extract

1 cup chocolate chips, blueberries or any other fruit!
**For the flour in this recipe I used 1/2 cup each of:
brown rice (or sorghum)flour

garbanzo flour

tapioca starch

potato starch
Prep a cookie sheet with parchment paper and preheat over to 425.
In a small bowl mix together flax meal & water.
Let mixture set at least 5 minutes and stir "goop" together until well blended. (This is your "egg".)
In a glass liquid measuring cup combine milk & lemon juice. (This acts as a "buttermilk".)
Set aside.
In a medium bowl whisk together:
flour, xanthan gum,
baking powder,
baking soda, sea
salt, and
brown sugar.
Cut butter into chunks and add to the dry mixture. Cut in with knives or a pastry blender tool until crumbly.
Add 1 cup of mini chocolate chips to the dry mixture. (Or wait and add blueberries or other fruit at the end.)
Add flax "egg" into mixture above.
Then add "buttermilk" mixture.
Finally add vanilla & almond and m
ix until just binding together.
Sprinkle rice or sorghum flour onto countertop. Place dough on top and knead a few times (5 or 6 times).
Pat into a round shape (like a really big thick pancake).
Cut into 8 pie shaped pieces.
Place on cookie sheet, brush tops lightly with milk and bake in 425 degree over for 13 –15 minutes.
Cool for a couple minutes on the pan & then on wire rack.
--->Pin this recipe!