November 3rd was my dad's 50th birthday!!
I love him so much & was pumped to celebrate such an awesome milestone with him!
I think I may have been a little more excited about it than him actually... but he's a good sport ;)
I sent him a package of sweet treats since I couldn't be there to bake him a cake.
Included in this party pack were mini peppermint patties complete with Halloween wrappers & tied up with pretty string.
You see, I inherited my love of all things dark chocolate/peppermint from my daddy.
Road trips aren't road trips without York Peppermint Patties & who goes to the movies without Jr. Mints?
Recently I've become passionate about supporting Fair Trade Chocolate so I made a batch of homemade peppermint patties.
YUM! They were a huge success & you can use butter in place of the cream cheese if your heart desires.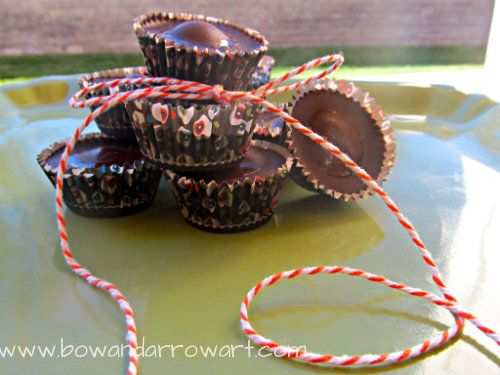 Peppermint Patties
3 TBSP cream cheese (or Tofutti vegan cream cheese)
1/2 tsp peppermint extract
1 1/2-2 cups dark chocolate chips
In an electric mixer, beat everything but chocolate until smooth. Scoop into a bowl and place in the refrigerator to set.
Once firm, roll into one inch balls.
Set in freeze for another 60 minutes.Or throw it in the freezer for as long as you can stand to wait ;)
Melt chocolate chips in a double boiler.
Pour chocolate into mini cupcake wrappers until about half full.
Place mint in the middle & cover with more melted chocolate.
Freeze again until ready to eat.
Yuuuuummmm!!!!